Huilunsoiton opetusta Pasilassa / Flute lessons in Pasila
Pasila, 00240 Helsinki, Suomi
---
See in English below!

Olen 23-vuotias huilunsoiton opettaja Helsingistä. Opiskelen tällä hetkellä maisterin tutkintoa Sibelius-Akatemiassa pääaineeni huilu ja pedagogiset opinnot. Opetan Helsingin Pasilassa n. 10 minuutin kävelymatkan päässä Pasilan juna-asemalta. Opetan mielelläni myös oppilaan kotona. Minulle ei ole ongelma matkustaa pääkaupunkiseudun ulkopuolelle. Olen tottunut opettamaan etänä käyttäen mm. seuraavia sovelluksia: Zoom, What'sapp, Google Hangouts ja Skype.

Olen opettanut niin vasta-alkajia kuin ammattiopiskelijoita. Vahvuuteni opettamisessa on oppilaan kohtaaminen ja hänen tarpeensa ja oppimistyylinsä huomioiminen. Opettaminen on intohimoni ja kehitän itseäni opettajana aktiivisesti maisteriopintojeni lisäksi erilaisilla kursseilla löytääkseni mahdollisimman paljon työkaluja erilaisten oppilaiden opettamiseen. Erityisosaamisiini kuuluu mm. lukihäiriöisten opettaminen, improvisaation opetus sekä flow-tilaan pääsemisen harjoitukset. Vaikka olen käynyt opintoni klassisella musiikilla, minulla on kokemusta huilun soittamisesta myös pop/rock-ensembleissä. Tunneillani ei tarvitse soittaa klassista musiikkia. Aikuisoppilaat ovat enemmän kuin tervetulleita!

Otathan tällä hetkellä mieluiten yhteyttä puhelimitse/viestitse. Sähköpostini kanssa on ollut viime aikoina ongelmia.

Tarjoan ensimmäisen tunnin veloituksetta. Tervetuloa tutustumaan!

Hinnasto:
35€ / 30min
40€ / 45min
45 € / 60min

Laskutan kevytyrittäjänä kerran kuussa tai sopimuksen mukaan.

***

I'm 23 years old flute teacher from Helsinki. I study my master's degree at Sibelius Academy at the moment majoring in flute and pedagogy studies. I teach in Pasila, only 10 minute walk away from the railway station. I can teach also at the student's home. It is no problem for me to teach further outside Helsinki area. I have experience also in online teaching with various different platforms fe. Zoom, What'sapp, Google Hangouts and Skype.

I have taught students from beginners to professional flute students. I have previous experience teaching in English. My best feature as a teacher is being there for the student and teaching in a way that suites every student in their own way of learning. I have passion for teaching and I'm constantly attending to different courses to train my teaching skills and finding new tools to take my teaching to the next level. I have specialized to teaching dyslexic students, improvising and finding ways to create experiences of flow. Adult students are more than welcome!

Even though I have done my studies in classical music I have also experience playing the flute in pop/rock-ensembles and I would be happy to teach students outside classical music genre.

It would be best if you contacted me by phone/textmessages, because I have had some troubles with my e-mail lately.

I offer the first lesson for free. Welcome!

Prices:
35€ / 30 min
40€ / 45min
45€ / 60min

I send a bill by light entrepreuneurhip.
☎ 0407388332
---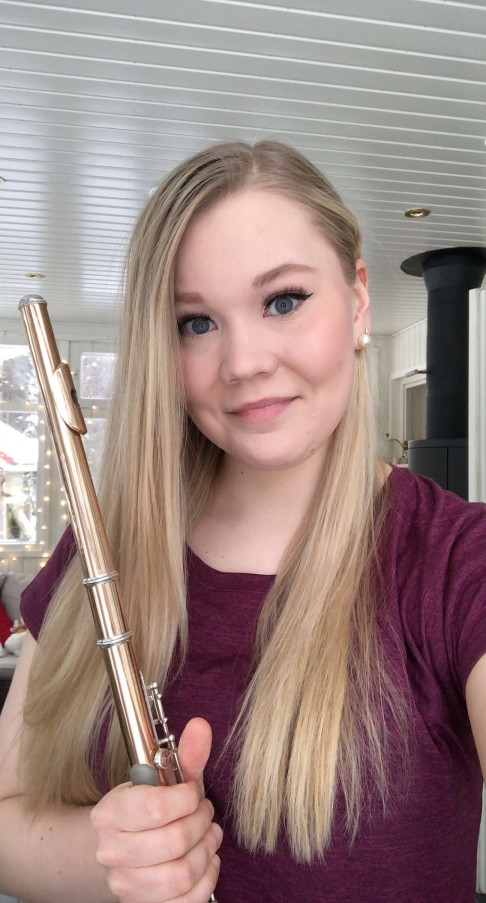 Teaching subjects:
Music
Arts
Other subjects

Name:
Nea Mäkelä
Phone number:
0407388332
Gender:
Female
Age:
23 years
Type:
Tutor
Remote learning availability:
Yes
Hourly asking price:
35 EUR
Created:
March 15, 2021 12:22 (30 days ago)
Updated:
March 15, 2021 12:23 (30 days ago)
Views:
203 times
---
Is this your listing?
Buy VIP visibility
Resend admin link
---
Continue your search:
Tutors
Music tutors
Arts tutors
Other subject tutors
Tutors in Pasila
Tutors in Metsälä
Tutors in Kerte
Tutors in Helsinki
Tutors in Espoo
Tutors in Böle