Etäopetus/online tutoring matematiikka, fysiikka kemia
Jämeräntaival 6, 02150 Espoo, Suomi
---
(IN ENGLISH BELOW)
Online tutoring
Moi! Tuntuuko, että tarvitsisit tukea opiskelussa arvosanojesi parantamiseksi? Tai että lukiossa käydään teoria liian nopeasti, ja tarvitset jonkun, joka osaisi selittää teorian ymmärrettävästi?
Olen pian valmistuva diplomi-insinööri sekä ensimmäisen vuoden matematiikan aineenopettajaopiskelija. Diplomi-insinööriksi valmistun keväällä Aalto-yliopistosta pääaineenani Säätötekniikka, Robotiikka ja autonomiset järjestelmät. Tarjoan matematiikan, fysiikan ja kemian opetusta lukiolaisille sekä opetusta ja läksyapua peruskoululaisille kaikissa aineissa.

ALA-ASTELAISILLE/YLÄ-ASTELAISILLE
Minulla on neljän vuoden kokemusta ala-astelaisten opettamisesta. Opettaminen onnistuu parhaiten tekemällä tehtävät yhdessä. Opetuksessa paneudutaan oppilaan haasteisiin ja oppimisesta tehdään innostavaa.

LUKIOLAISILLE
Valmistuin ylioppilaaksi keväällä 2020, joten osaan hyvin opettaa lukiolaisia sähköiseen ylioppilaskokeeseen. Lukiolaisia olen opettanut noin kolme vuotta.

Geogebra, TI-nspire, Excel ja Speedcrunch ovat hyvin hallussa, joten lukiolainen oppii käyttämään näitä erinomaisesti kokeissa ja ylioppilaskirjoituksissa.

Selitän teorian selkeästi ja varmistan, että oppilas ymmärtää asiat.
----------------------
YO-arvosanani:
Pitkä matematiikka L
Fysiikka L
Kemia E
Pitkästä matematiikasta sain Teknologiateollisuuden 100-vuotissäätiön stipendin, joka myönnettiin 149 parhaalle kirjoittaneelle.

Voin opettaa etänä, jolloin jaan tietokoneen näyttöni.
----------------------
Nopeimmin minuun saa yhteyttä WhatsAppin kautta: +358 44 325 3964
Ota rohkeasti yhteyttä ja saavuta arvosanatavoitteesi!

Looking for a private tutor? I offer tutoring sessions in mathematics, chemistry, and physics for high schoolers. Additionally, I can teach any subject for elementary and middle schoolers.
I have three years of experience in teaching mathematics, chemistry, and physics. I've got excellent feedback from my students, and mostly they have achieved their goals.
I am currently doing a degree in both engineering and mathematics. I'm soon completing my master's in Aalto University where my major is in Control, Robotics and Autonomous systems. I graduated from High School of Karhula since I'm originally from Kotka. I achieved excellent grades from my matriculation examination:
Mathematics (advanced level) L
Physics L
Chemistry E

I received a mathematics stipend from Technology Industries of Finland Centennial Foundation. The stipend was given to 149 students with highest points in the mathematics matriculation exam.
I can tutor online. The best way to reach me is via WhatsApp: +358 44 325 3964
Contact me and achieve your goals!
☎ 0443253964
---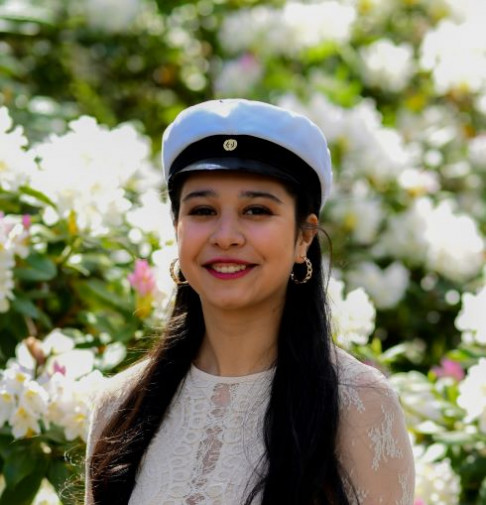 Teaching subjects:
Mathematics
Physics
Chemistry

Name:
Fernanda Jokinen
Phone number:
0443253964
Gender:
Female
Age:
22 years
Type:
Tutor
Remote learning availability:
Yes
Hourly asking price:
30 EUR
Created:
Tuesday, August 22, 2023 at 1:52 PM
(1 month ago)
Updated:
Tuesday, August 29, 2023 at 4:16 PM
(1 month ago)
Views:
252 times
---
Is this your listing?
Buy VIP visibility
Resend admin link
---
Continue your search:
Tutors
Mathematics tutors
Physics tutors
Chemistry tutors
Tutors in Otaniemi
Tutors in Kerte
Tutors in Helsinki
Tutors in Espoo
Tutors in Tarvo
Tutors in Teekkarikylä
Tutors in Keilaniemi